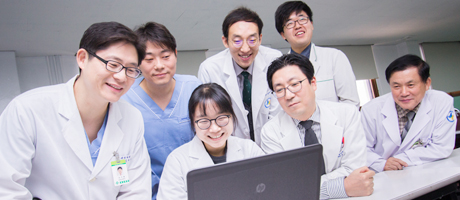 Early diagnosis and treatment are possible even in the case of foreign patients with high-level specialists, through close cooperation with the clinic. We also thoroughly manage and supervise the hygiene of medical equipment.
Achieved About 300,000 cases of gastroscopy / colonoscopy
Achieved About 10,000 cases of therapeutic endoscopy

Gastroscopy Guide
The day before examination

- Dinner should be lighter than usual, and do not eat after 9 pm.

On the day of examination

- Do not drink water or milk as well as breakfast.
- Take your blood pressure medication or heart medicine 3~4 hours before testing.
- If you have diabetes, do not take insulin injections or diabetes medications.

Checklist

- If you have allergies or chronic diseases (heart disease, hypertension, asthma,glaucoma, prostatism, etc.) or are taking medication, please tell us before the test.
- If you are or might be pregnant, please tell us before the test.
- During endoscopy, biopsies or other tests may be performed as needed.
Colonoscopy Guide
You should be on a diet and adjust food from 3 days before the test since the colonicirrigation is required on the day before the test.
If you have any medicines you are taking, you must consult with your doctor before testing.
If you need a polypectomy, you may stay in the hospital for one day.
Percutaneous Endoscopic Gastrostomy(PEG) Guide for long-stay patients and severe patients.
This is a procedure to artificially nourish, preserve and prolong life for patients who are unconscious for a long time due to illness or accident and are unable to eat food themselves. This procedure uses endoscopic equipment to pierce a hole in the stomach to connect the tube to the outside of the body, supplying nutrients. Although it has undergone a difficult surgical procedure in the past, it has become simpler and safer as well as convenient.